This is our front door... for now.


We decided not to paint the front door when we moved in because we thought we might need to replace it due to its age. So, we've lived with a quirky purple door for a few years... but, now the time has come to rip it out. It's not just about chipping paint... opening and closing the door has become quite a chore and the air leakage is getting worse every minute.
We started by looking into the cost of simply replacing the door and storm door (which lost its hydraulic hinge a few months ago, and now swings out 180+ degrees each time you open it). But, once we learned what is involved in a "full tear" (tearing out the door frame, jamb, etc.), we realized that we should simultaneously replace the decaying wood paneling on the front half-octagon portion of the house - and finally update the light fixtures. Since we plan to replace the front door with a door that only has a few windows at the top (for privacy and safety), we were concerned about darkening our foyer too dramatically. My colleague, a seasoned home renovator, had the clever idea to add windows. So, today, our contractor came out, measured, and taped off the locations of the potential new windows (see blue tape in photos below).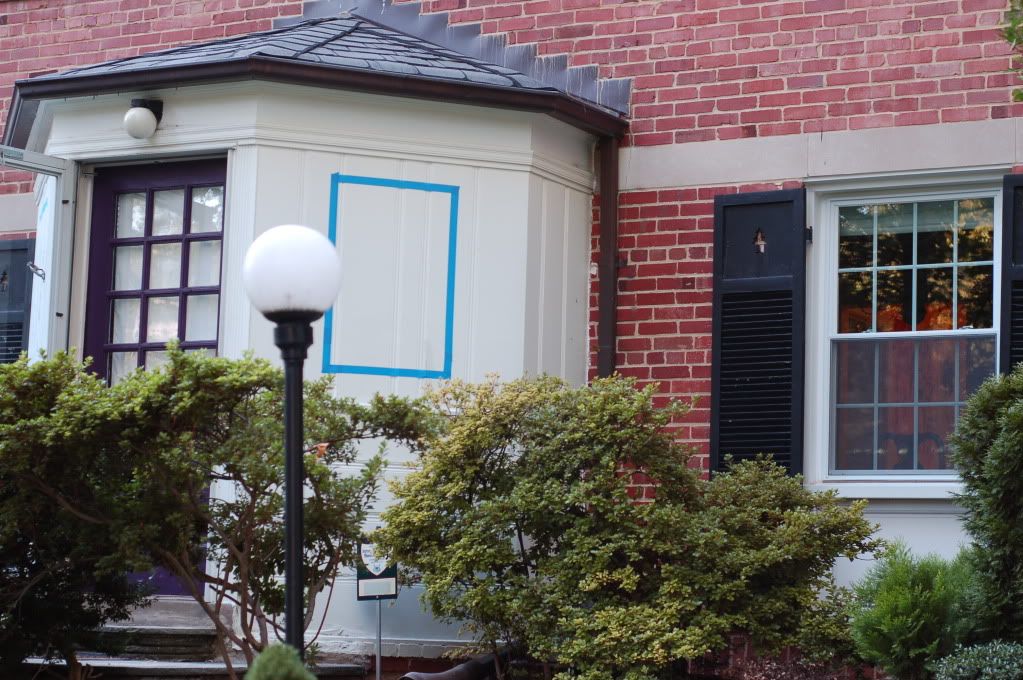 So many decisions - in not so much time! We're scheduled to have the work done sometime in the next month or two.
Here's the to-do/to-select list:
Front door and storm door - materials, style and color;
Hardware (handles, locks, knocker, kick-plate, peep-hole and mail-slot);
Color and design for the new siding (to replace white paneling);
Sconces (2 side sconces) to replace overhead globe fixture, and coordinating post light;
Placement, size and style of windows;
House numbers; and
Interior window treatments for 2 new windows.
I will be sure to keep you posted on all the various selections. Would also love your input!