12 Devonshire Place, that is... our home in London in 2004-2005 (and my inspiration for the
blog title
).

Unfortunately, I waited until moving out day to capture the front entrance, hence the packaging materials and doors wide open. I loved those glossy black doors that welcomed us each day.
Finding a flat to rent in London was quite an adventure for us... I forgot the final count, but am guessing we looked at upwards of 40-45 places over at least 8 weeks. We bid on several - only to be disappointed or gesumpted. Luckily, just as we were about to max out on our "transitional" corporate housing, we found the perfect place! Sure, it was a little dated... but, it had SO much character, and was in a fantastic location (the heart of Marylebone) - I was smitten. Our landlord was also kind enough to replace some of the carpeting and partially renovate the kitchen just before we moved in.
Photo quality is pretty mediocre, and please overlook my amateur decorating attempts at the time... but, the apartment just had so many wonderful qualities - I was excited to find the photos and post them.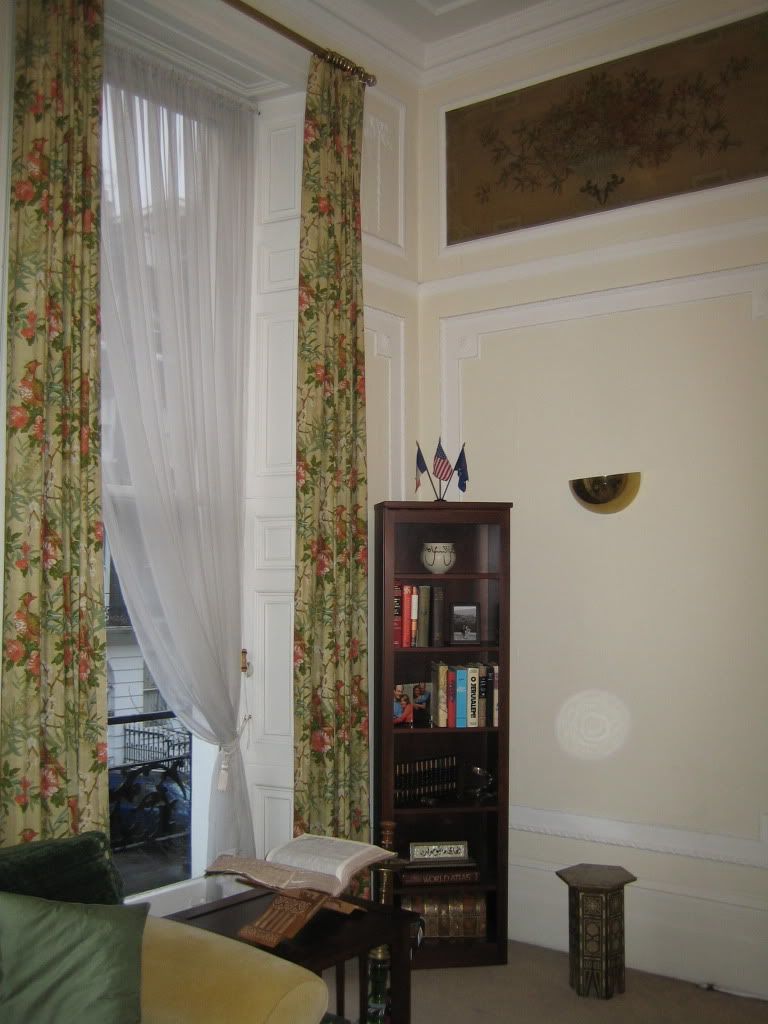 Those ceilings and windows had me at hello. I remember browsing the fabric offerings at my beloved
John Lewis
, thinking I would freshen up the living room with new curtains, only to find that such a project would cost a very pretty penny (pence?)! Looking back now, I actually kind of like the curtains. They remind me of Robert Allen's
Eleria
.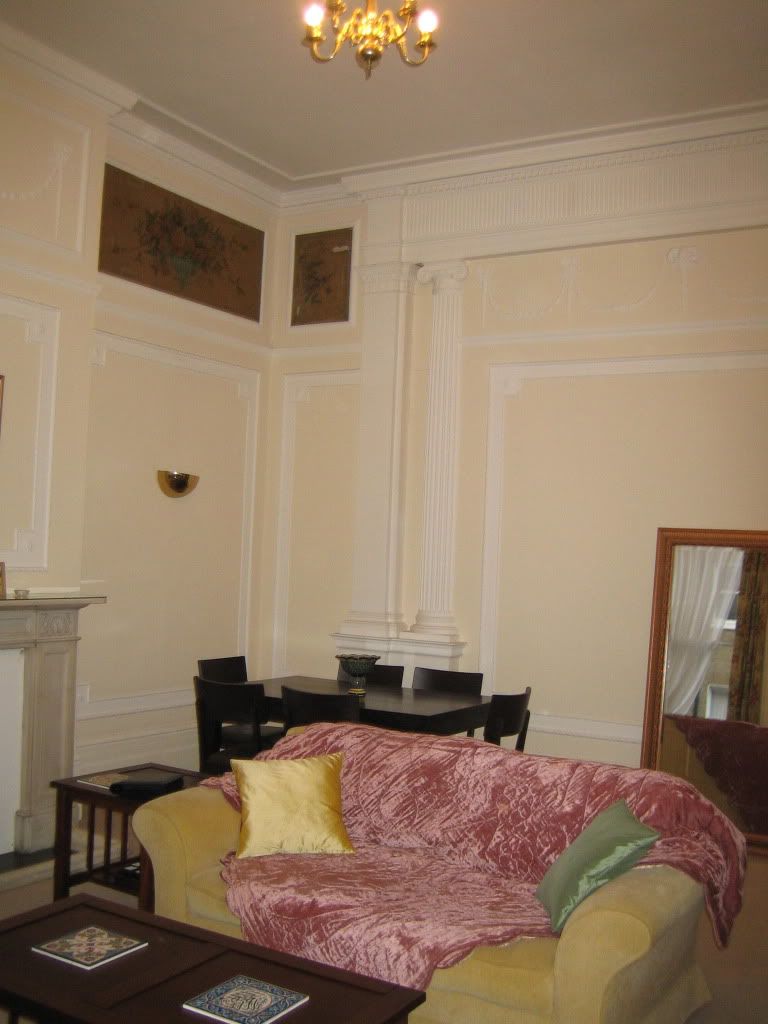 The mouldings were just exquisite - and those frescoes were such a unique element.

Unfortunately, this was not a working fireplace.

Other than the yellow sofas, the furniture was our own that we shipped to the UK from NY. As you can see, the scale of most of our furniture was suited much better to a converted studio apartment in Manhattan than to this grand London flat with soaring ceilings! The yellow dancing teapot set above the t.v. was another incredibly sweet surprise gift from Mr. 12devonshire early in our relationship.

We bought the large floor mirror and mantle mirror on Portobello Road. They survived the trip to the States and now happily reside in our dining room and living room, respectively.
This was the little kitchen table where we would eat our yummy Waitrose treats and look out the window.
This was the view from our kitchen table window. I miss sipping my coffee and looking down at that incredible courtyard.
Oh, how much fun I would have decorating that apartment today (especially, if cost were no object)! To start, how about a dramatic chandelier... and antiqued mirror cut to fit in the fireplace? Maybe some built-in bookcases on either side of the fireplace, classic wall sconces in antiqued brass, hardwood floors, and beautiful antique silk rugs. I might steer toward low-profile, modern and sleek for the sofas, to contrast the ornate architectural details and emphasize the ceiling height. I'd have fun and add something in lucite... but, also perhaps a pair of antique gilded french armchairs. If I had an incredible art collection, I'd have the walls painted white. Otherwise, perhaps a light soft gray. A grand piano would reside by the window, the main seating arrangement would be centered on the fireplace, and some lovely plants would warm up the space. Hmmm, I might have to start scoping out London real estate!